Team Falcon road tripped to Ohio for TTC 2017! Full event wrap up and photos here!
Team Falcon got a jump on the weekend, leaving for Lebanon, OH. at 2:30am last Friday morning. Excitement fueled their drive as they road tripped to the Team KNK Top Truck Challenge. The crew consisted of Jess, Mike, and Spencer.
Here is the weekend wrapped up by the crawler guru himself, Jess Wade…
Spencer and Mike showed up at my house 2:30 in the morning Friday. We headed out for Lebanon, Ohio and I was able to keep Spencer awake long enough to pull into the KNK Farm around 9:30. Where we greeted by none other than the man himself Mr. Mike Kirby. He kicked me out of the drivers seat and parked the Falcon boys in a nice spot right in the center of the camp site. We got the Falcon tent set up and product out just in time for the first Drivers meeting at noon. I was able to run over and see a few of my Team Sponsors before heading to the 1st event on my schedule, the class 2.5 sled pull.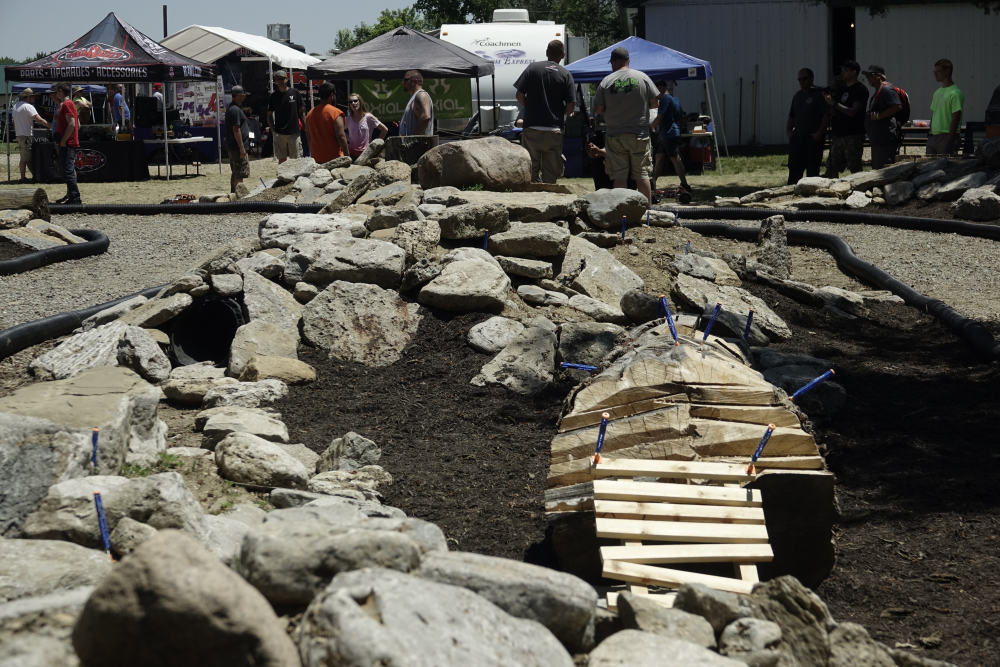 My first event went on without a hitch. I had a very strong full pull with no issues. I expected this, seeing as my Toyota is a bit over weight with lots of power, :). After the sled pull, I put the yota in line for the hill challenge and went to lunch. While I was doing this, Mike Mac was tackling his Class 3 trail run. Spencer and I went to work on pictures and running the tent. We also came up with a few ideas for videos and the box stock challenge. This was also a a good time for me to be a volunteer judge. I judged 2 runs on Friday and really enjoyed it. I am going to volunteer to be a regular judge for now on. After judging was complete and Mike was finished with his run, it was time to head our for some food and zzzz's. All 3 of us were completely exhausted from the long day.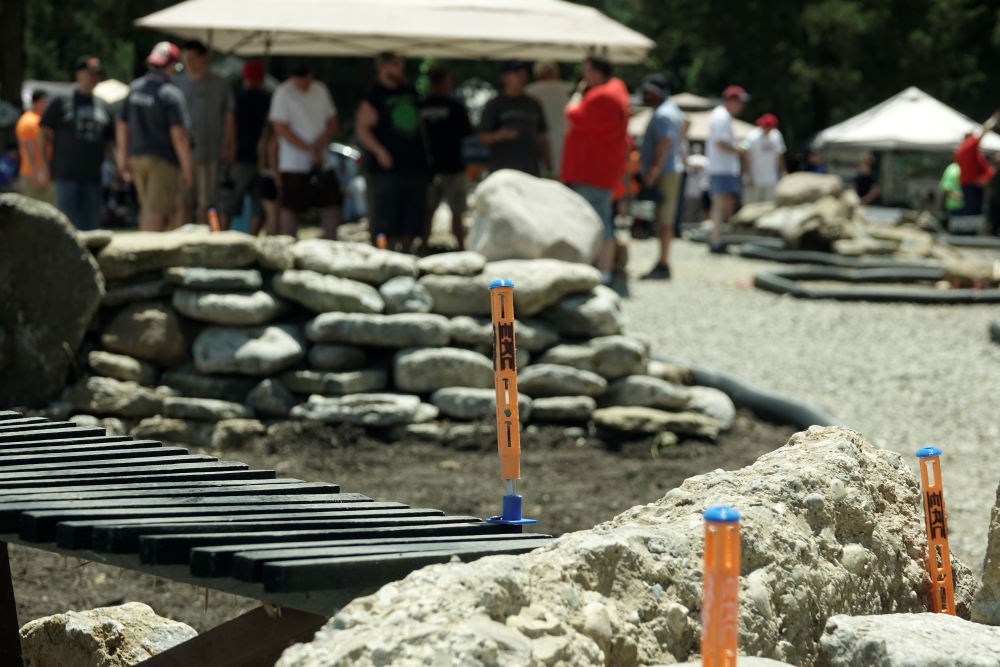 Day 2: Started off great with a quick drivers meeting and seeing as we had no scheduled events until noon, Spencer and I started the Box Stock Challenge. We took a Axial Racing SCX10 2.0, Vaterra RC Ascender, and a Traxxas TRX4 straight out of the box and ran as many obstacles as were allowed. This turned out to be the most fun I would have the throughout whole weekend. We even pulled a few competitors in to run the trucks as well. Big thanks to Christopher S Wilson and Matthew Brauer for helping out with some of the driving duties. When we weren't running our comp trucks, we were comparing the stockers. We ran all 3 trucks on the 2.0 trail course, the hill challenge, the bridge challenge, tug o war, turning radius, and a drag race. I am not going to spill the beans on any results, but stay tuned for the video soon.

Back to the comp....around noon my class 2.5 trail run was scheduled. I put the truck in line and got on course around 3. Things were going great through the first 3rd of the course. I had only brushed 1 gate and no winches or roll overs. On the second leg, I ran into lap traffic and it kind of put me out of my rhythm. I had a roll over and hit a gate, then it appeared my truck was overheating. So I called time to go fix the truck only to realize that my battery crashed prematurely. This forced me to the end of the line. Unfortunately, the line was moving pretty slow so I paused to do a judge run for another competitor. After judging me and the guys ran the stockers for a little while longer before heading out for dinner.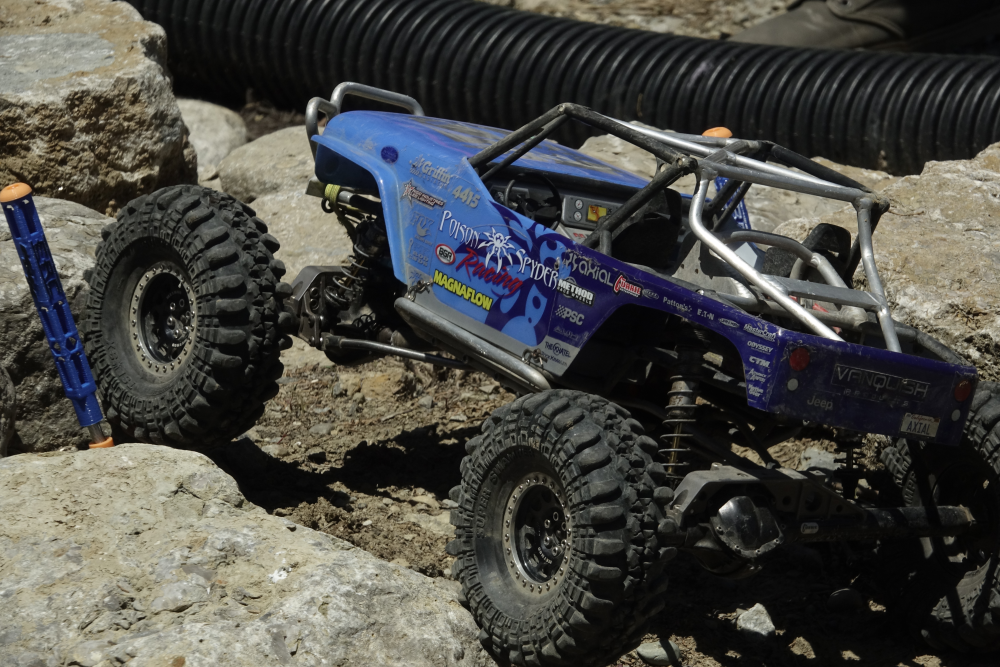 Day 3: I put my yota in line to pick up where I left off on the 2.5 trail run. Mike was running the tank trap and the hill challenge so I went back to man the booth while Spencer went out to photograph. Meanwhile the class 2 trail was about to open for a free run, so we prepped the box stockers and staged them for a comparison run with the go pro's mount on each. As I said before, this was easily the best part of the weekend. It is so much fun going back to basics and running box stock trucks. All 3 trucks did awesome and made it all the way through our testing/comparison. When we finished the trail, my turn was up on the 2.5 trail. I picked up where I left off, things were moving right along and I was on the 3rd leg when the truck started acting funky again. The truck was acting like it was thermaling, so I just called it and went back to playing with the box stock trucks. Turns out, I somehow killed 2 batteries this weekend. Pretty freakish and unfortunate, but I wasn't going to let it ruin my weekend.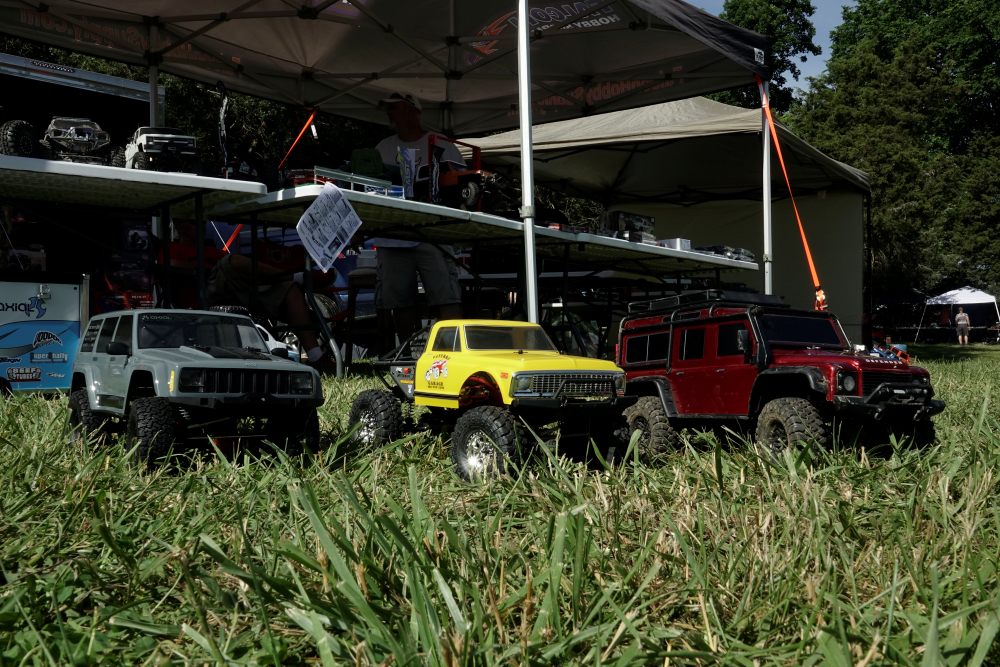 After a disappointing end to the trail course, I licked my wounds and headed over to the mud pit. Dan had a freshly charged 4s pack lying around, so I didn't have to run my failing 3s pack. I had a strong run right up until the exit when I was a bit too far to the left and sunk deep in the muck. I missed a full run by about a foot. I was happy with that and went back to prep my bomber for a mud pit assault. As you can see from the video, my Bomber attacked the mud pit and flew out the other side like it was Mike Kirby chasing down a volunteer judge. :)

Now it was time to pack up and get ready for the awards ceremony. We finished loading up just in time to to hear results and listen for prize winners. I am positive that everyone who participated took something home. All of the amazing sponsors came through with some awesome giveaways. I think they gave away a total of 5 or 6 trucks, full motor and esc combos, aluminum wheels and the list goes on. There was over $20,000 in prizes given out. Simply Amazing!

Without a doubt Falcon Hobby Supply will be sponsoring next year's #KNKTTC5. Thank You Mike and Amberly Johnson Kirby for having us.

I would also like to thank John Schultz and Rodney Wills from Axial Racing. Axial was a platinum sponsor for the event and donated some killer products. The main one being the SCX10 2.0 that was the same truck used in all of the marketing ads and artwork for the box. Don't remember who won the truck, but I am sure they are very happy. Enjoyed spending time with you guys and cant wait to do it again.
I have a few brands and sponsors to give kudos to for the their insane durability.
First and foremost, Team KNK Hardware. Not only for putting on an exceptional event, but for providing kickass stainless steel hardware.

Falcon Hobby Supply for sponsoring the event and allowing me to do what I do.

Team Beef Tubes and Dan for providing the 'brass' I needed to beat the hell out of rig. My new Team Beef Tubes winch rope and Ultra Light "Meat Hook" really got a workout towards the end of the trail run. I really beat on the truck and if you watched my live video you can understand the abuse I put these products through.

SuperShafty.com without the bomproof transmission, I would be changing stripped gears all the time. On a side note, they also donated a complete bombproof and a friend Allyson Schwartz was able to take the prize home.

Donald Jenkins for building the most badass truggy chassis you can buy. I have beat the crap out this chassis for 2 years now. It has been in 2 Recon G6's, Axialfest 2016, NWI TTC, and more trail runs than I can count. It is still looks as good as the day it showed up at my house.

Holmes Hobbies for providing durable freakishly strong motors. I run a BLE and 3300kv Stubby and have since I built the rig. For 2 years now, I have never had one hiccup out of the powertrain.

Vanquish Products not only do they build the most beautiful axles and wheels you ever seen, but they are stupid strong. If they could only find someone who could drive a tiny truck or U4 truck though. Dan and Michael are ok I guess. ;)