Welcome to the Midwest's Largest RC Playground
We are dedicated to providing a fun racing atmosphere for the Midwest RC community & beyond!

Check out our upcoming events below...
ARRMAGEDDON

BASH

N'

DASH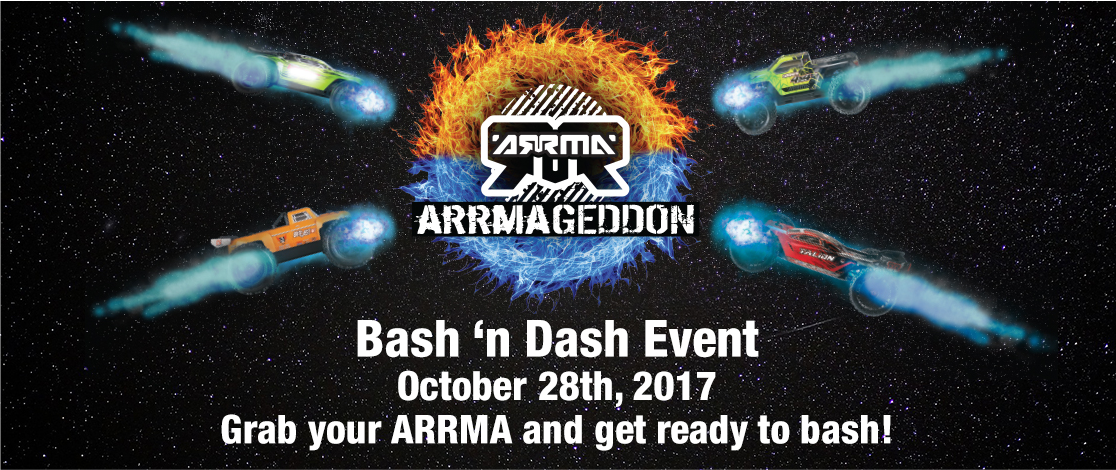 Join us for the Year's BIGGEST Radio-Control Car Event on October 28th!
The ARRMAgeddon Bash 'n Dash is the racing event no ARRMA fan (or anyone into RC) can afford to miss!
The biggest ARRMA dealer event in history and it's being held right here at the Midwest's Largest RC Hobby Shop, Falcon Hobby Suppling, in Springfield, Illinois.
Details for event...
Bashers can take their favorite ARRMA vehicles for a spin on the open off-road track, while the little ones can get in on the action at the RC Kids Area. If you have an ARRMA build, you can participate in several exciting races listed below—and don't worry if you don't have one; you can still drive one of the new ARRMA vehicles at the open off-road track.
Attendees can enter to win cars and other raffle prizes, too. Event attendees will receive a voucher for their next Falcon Hobby Supply purchase that can be redeemed for a chance to win the new brushless 1/8 TALION 6S BLX Speed Truggy.

In addition to the racing and open off-road action, you'll be able to view and experience all the latest ARRMA vehicles up close and personal. And if you get hungry, grab a bite to eat at one of the many local food trucks!
Schedule...
• Long Jump Competition at 1:00 PM
• High Jump Competition at 2:00 PM
• Tug of War Contest at 3:00 PM
• Speed Race 100-Yard Dash at 4:00 PM
• Raffle prize winners will be announced at 5:00 PM
• To wrap up the event, an ARRMA professional driver will perform a TALION Super Jump at 6:00 PM

2017 Indoor On Road & Drift Racing Coming Soon!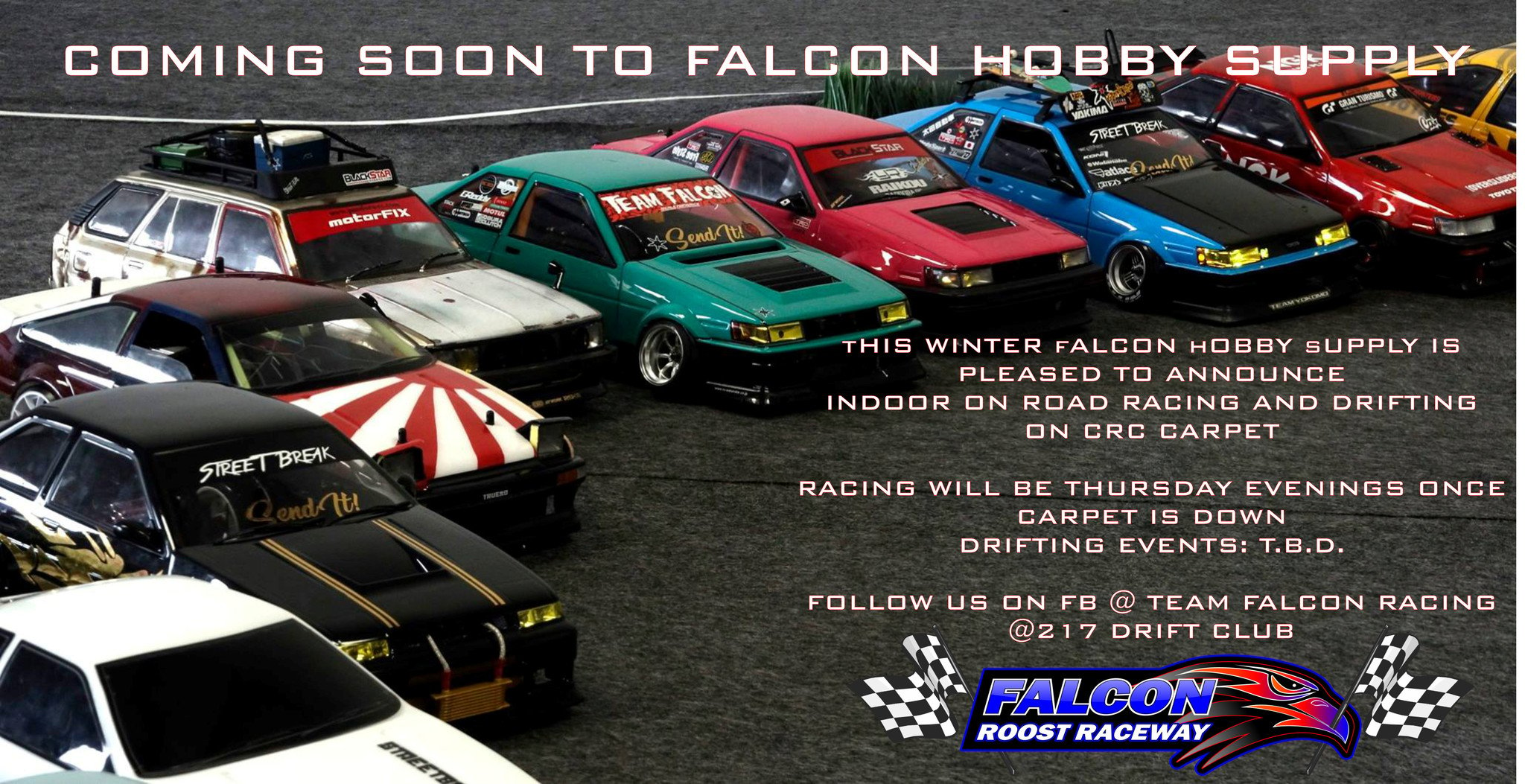 Past Events...



2017 Labor Day Weekend Big Money Race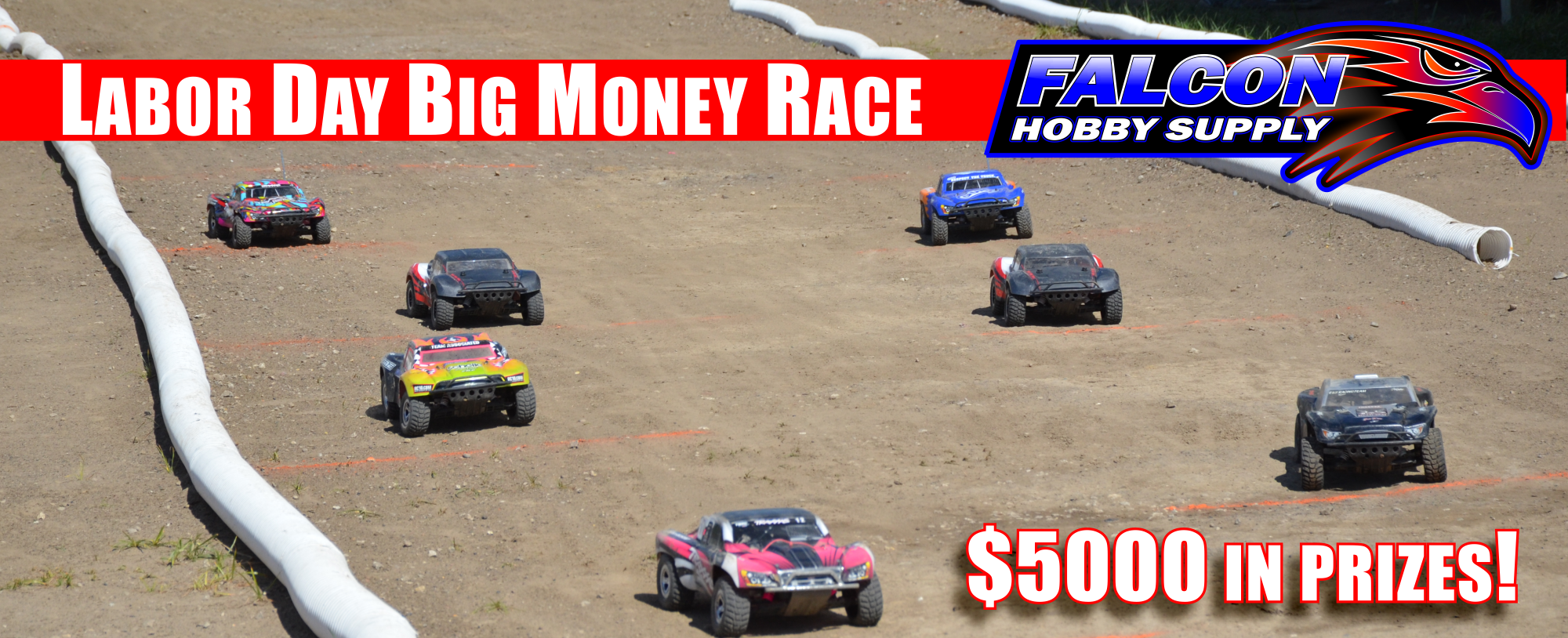 Kicks off Friday September 1st! Over $5,000 in prizes!!! Come out and join us for an awesome weekend of racing and fun!
Details for event...
• Over $5000 in prizes with each race entry receiving a raffle ticket for those prizes (Only racers can get in on the raffle)
• Entry Fee = $40/class (Half of entry fee from each class goes back out to the winner)
• Sign up via rcsignup.com (link below) or day of practice.
• Final signup Saturday Morning from 7:00am-8:30am
• Racing Starts Saturday at 9:00am
• Mains Start Sunday at 7:00am
• TQ in each class will receive a prize.
Schedule...
• Sept 1st Controlled Practice (optional)
• Sept 2nd Qualifiers – 3 rounds
• Sept 3rd Mains
Sign up here: https://www.rcsignup.com/events/displayEvent.cfm?ID=5807
Full info & updates can be found here: https://www.facebook.com/events/281458512285201/